It is the time of the year when you would furnish your outdoor space with diverse patio collections in preparation for fall festivities. From dining sets to tables, lounge chairs, and sofas, there is a wide selection to make your patio luxurious and sophisticated. However, you should realize that not all products you see online are luxury furniture.
What Is An Outdoor Luxury Furniture?
Outdoor furniture items are built by skilled craftspeople using the most durable materials. Whether it be garden chairs , benches, or outdoor dining sets, a chic patio furniture collection makes a dull-looking space into a spectacular and elegant patio.
More owners of establishments in the hospitality industry have already transitioned to using luxury outdoor furniture. If you are planning to refurbish your collection, let us take a look at different high-end outdoor furniture items to level up your patio. There are diverse collections of outdoor dining sets and a large selection of tables which makes a great outdoors.
What Makes Outdoor Furniture Luxurious?
Luxurious is quite a subjective term, especially for outdoor furniture. However, a lot of your guests typically have set criteria when it comes to high-end furnishings for the great outdoors. They might not have it paper since they cannot arbitrarily determine such quality, but they can intrinsically identify when a piece of outdoor furniture is luxurious or not.
Still, there are things that would warrant sophistication. For instance, the materials should be durable and recognizable. Its design should be clear and stylish, with an explicit aesthetic that screams luxury and clean lines. The surface of these items is made with textures and warm colors.
Finally, the shapes and details, and materials of these outdoor furniture items should not be similar to the items that are already on the market. Instead, they should stand in a great way.
What to Look for in Outdoor LFurniture Items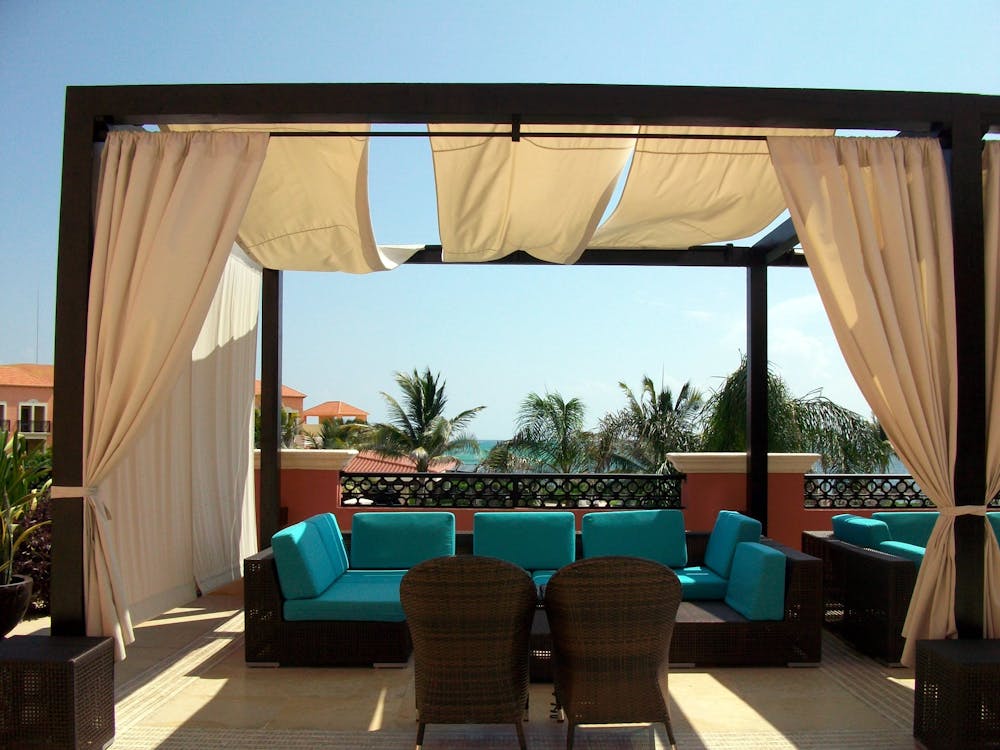 Now that you have an idea of what luxury outdoor furniture items are, you should also acquaint yourself with the factors to look for in these items. There is no denying that you can easily spot the item that suits outdoor space the most.

A stylish patio space is not just about chic outdoor fireplaces, garden chairs, patio umbrellas, and dining sets. It should also be about high stylish quality materials, and elegant elements, that could still make your patios look amazing for the next many years.
The durability of the outdoor furniture
High-end outdoor furniture items usually have durable craftsmanship, and materials showing clean lines. Since these furnishings are really built to stand the outdoor elements, they should have materials that have rich colors and that do not easily tear down. Robust materials such as plastics, aluminum, and steel can resist ultraviolet light.
In order to provide more protection and durability to your patio furniture, we suggest applying varnish and finish to your furniture to protect them from heat and moisture.
Quality of the outdoor luxury furniture
The quality of luxury outdoor furniture should also come into play. Usually, the quality of these of your outdoor furniture would be commensurate to its life span. So if you invest in low-quality furnishings, you would most likely end up with items that need a lot of repairs and maintenance. High-end outdoor furniture items, on the other hand, would ensure that they would withstand whatever exterior elements your outdoor space would have.
Now how can you gauge if the item that you bought is high-end? We suggest sitting on it for at least five minutes. If you feel that the patio furniture is feeble, then it might not have the quality that you should want in luxury outdoor furniture.
Resistance to molds
Wooden furniture made of cheap materials could be the breeding ground for molds. High-end outdoor furniture items, on the other hand, have an excellent finish that would inhibit any growth of these parasites.
Resistance to fade
Apart from the tendency of molds, cheap furniture items would tend to fade immediately. Hence, you have to make sure that the finish and color of your luxury patio furniture would not fade over time, even if they are exposed to heat and moisture.
We suggest that you look into poly furniture items since they can resist fade and molds.
The comfort of the outdoor luxury furniture
For luxury outdoor furniture to be used often, you should ensure that they are comfortable to use. After all, these items are not just displayed that you parade around your outdoor area. Instead, these items should provide relief as you breathe in the fresh air of the outdoors.
There are a lot of advantages of good furnishing to your overall being, including a boost in your physical well-being. After all, outdoor living is akin to a fresher, more active lifestyle.
How do you test the comfort of the outdoor patio furniture? Simple! You also sit on them.
Weather resistance
The outdoor space is full of elements that might be detrimental to your outdoor furnishings. Hence, you should ensure that your outdoor patio furniture is built to resist harsh weather conditions.
Hot and dry conditions are usually the weakness of your wooden furniture since it makes them crack – especially for chairs. Moisture, on the other hand, would hasten the furniture to rot.
As an owner of patio collections, you should be mindful of the craftsmanship of your furniture. Several manufacturers usually treat these outdoor furnishings to withstand water. Some of them even use modern fiberglass details.

Even though other luxury patio furniture items have a weather-resistant finish, you still need to maintain their finish to prevent weather conditions from destroying them.
Customizability
You can only achieve luxury and sophistication in your outdoor furniture if you invest in bespoke items.
Create custom luxury outdoor furniture from scratch to ensure that you do not end up with a substandard product. You can do that and more by collaborating with custom outdoor furniture manufacturers such as StyleNations.
Shopping From StyleNations
At StyleNations, we offer a wide selection of custom hospitality furniture that would suit your preference and styles. Being the leading Southern hospitality furniture manufacturer, we collaborate to craft the perfect furnishing based on how you want your outdoor space to be. We have a good collection of modern commercial seating and dining sets which are all good for both indoor and outdoor space usage.

We help make hospitality businesses upgrade their indoor and outdoor space filled with a high-end aesthetic. Be it a poolside space, balconies, fire pits, and patios – we always have something in the shop to keep up with your preference on style.
10 Best Luxury Outdoor Furniture From StyleNations
There are a lot of modern outdoor furniture items in the market, but not everything you see exudes the aesthetic luxurious charm you want to install in your hospitality spaces.
To make things more convenient on your end, we have curated ten of the best luxury outdoor furniture items to level up your patio.
This is an outdoor lounge chair with an aluminum frame and an upholstered seat.
Among the array of outdoor table options at StyleNations, we think that the monochromatic color of the Dream Alu Coffee table makes it chic. It features a powder-coated aluminum frame/top.
Luxury outdoor furniture comes into play with this simplistic yet highly stunning sofa. It is made of polyethylene resin by rotational molding.
This luxury outdoor furniture has an aluminum frame with synthetic rattan and a glass top. This table is available in other materials upon request.
This seat features an aluminum frame with synthetic rattan and an upholstered seat. Like any luxury outdoor furniture on this list, this product is for your outdoor space.
For hospitality owners who are more inclined to darker hues, you may want to pick this patio furniture. It features an aluminum frame with a UV rope back and an upholstered seat.
This outdoor patio furniture is another option that leans toward darker hues. It features an aluminum frame with a UV rope back and an upholstered seat.
We love this outdoor furniture because of how comfortable it looks and feels. It features an aluminum base with synthetic rattan and an upholstered seat.
This outdoor furniture features a ceramic top with an aluminum base.
Finally, this white outdoor furniture – arm chairs with aluminum legs features an upholstered shell.
Wrapping Up
Outdoor patio furniture items are important to upgrade your outdoor area. They do not only serve the purpose of making your space more attractive and sophisticated, but they also allow you to let your guests immerse themselves in outdoor living.
If you are already sold on buying outdoor furniture, you can always turn on custom hospitality furniture manufacturers such as StyleNations for an array of outdoor patio furniture collections that would suit your preference and style.

Be sure to visit our website to discover more lounge chairs, tables and outdoor space accessories in style!